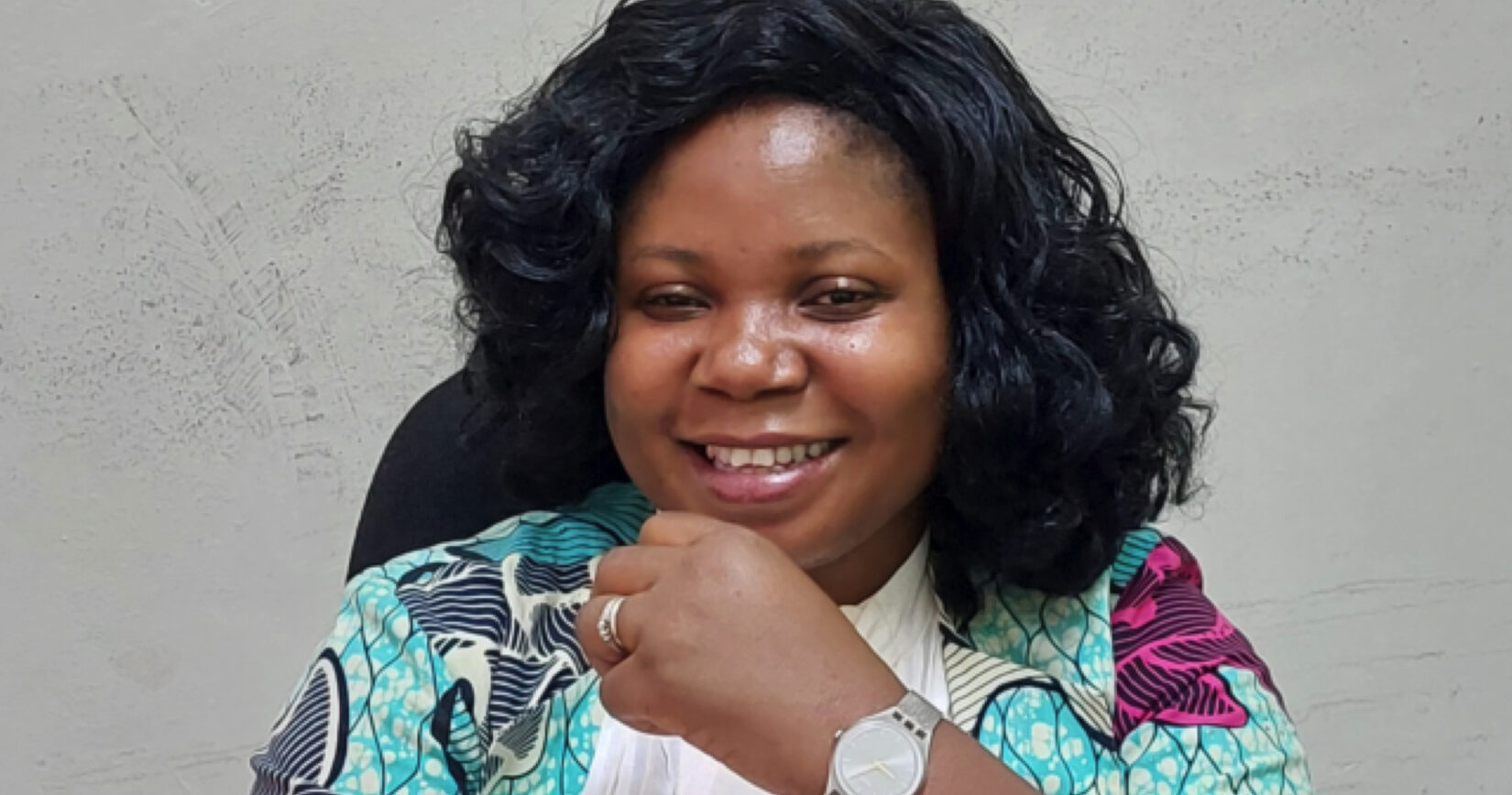 Ellen Abrafi Boamah-Kaali and her colleagues conducted striking new research that proves how clean cooking could protect the health and well-being of an expectant mother and her baby.
Ellen Abrafi Boamah-Kaali believes that knowledge is power. As a scientist, she's spent the past decade researching diseases and health issues affecting millions of people across the world. Her goal: to empower people with the information they need to make better health decisions. More recently, her research has focused on household air pollution and the impact it could have on an expectant mother and her unborn baby. The findings could shift the global conversation around clean cooking, gender, and health, and underscore why the world needs to do more to improve the health and well-being of girls and women.
Growing up in Ghana, Ellen recognized that many families did not prioritize or even encourage higher education for girls and women. In 2003, she became the first woman in her community to attend university and, later, the first to pursue a doctorate. It was this blatant education gap between men and women that spurred her into action.
"Being a woman in science and research can be extremely challenging and stressful, especially when leading projects," Ellen said. "I often have to give more and work harder than my male colleagues."
While interning in the Maternal and Child Health Department at the Kintampo Health Research Centre, Ellen became increasingly aware of the lack of empirical evidence available to health authorities when shaping Ghana's health policies. This opened her eyes to the vitality of considering socioeconomic, cultural, and environmental factors in determining health outcomes for the most vulnerable women and their children. By pursuing a career in public health research, Ellen was determined to play a part in contributing to evidence-based policymaking that would lead to better-designed maternal health programs.
Advocating for Girls and Women through Research
Ellen knows from firsthand experience how daunting it can be to juggle household and child care responsibilities while striving to get funding proposals accepted to further research. But these challenges have only fueled her determination to ensure that girls and women are safe, healthy, and #EqualEverywhere.
Her recent research on clean cooking and household air pollution is just one of the many ways in which she advocates for girls and women.
She explains: "Girls and women are disproportionately affected by the harmful effects of cooking with dirty and inefficient fuels because they are typically the ones tasked with maintaining the home. Household air pollution not only affects the health of women and children; it also exacts a huge economic and financial impact."
The ubiquity of household air pollution exposure, especially in rural areas of low- and middle-income countries, translates into millions of lives being affected economically and when it comes to health.
Shifting the Global Conversation on Cooking, Gender Equality, and Health
The research done by Ellen and her colleagues is the first of its kind, providing crucial evidence that investing in clean cooking can tremendously improve health, not just for an expectant mother but also for her unborn child. Seeing that the top environmental health risk globally is air pollution, these findings have the potential to influence public health policies on an international scale, as experts continue to step up efforts to address the interconnected issues of cooking, gender equality, and health.
Switching to clean cooking fuels would not only improve the health and socioeconomic realities of girls and women; it also would free up time that would have otherwise been spent collecting biomass fuels and could instead be spent participating in the workforce or staying in school. This ultimately creates a positive loop of improved health outcomes while simultaneously lifting households from poor conditions.
Mentoring the Next Generation of Female Leaders
Striving to serve as an example for girls in her community, Ellen is passionate about mentorship. With some of her most trusted friends, she organizes social and professional development workshops for young women with experts who help them identify their strengths, interests, and capabilities — and then connect them to educational programs and career opportunities.
"Many of the girls may not have seen themselves pursuing an education and [now] have instead chosen to postpone marriage and go to school," Ellen said. "Many are looking forward to challenging themselves by taking courses that were previously thought of as 'for men only.'"
Ellen knows that girls and women can do anything and everything they put their minds to. In Ghana, women are increasingly in school, the labor force, and leadership positions. And they're finding their voices in the home, too. Though some gains have been made in the wider gender equality movement, there's still a long way to go.
"#EqualEverywhere means that all human beings should have equal opportunities to evolve and honor their talents, despite the artificial divisions we've been made to believe in," Ellen said. "That goes for health, education, religion, distribution of resources, and everything in between."
To Ellen, being #EqualEverywhere is also a matter of women and children no longer being disproportionately affected by the health and financial effects of household air pollution.
Unfazed by the hurdles that remain, Ellen refuses to lose faith in the promise of a gender-equal world. "We will get there with commitment, dedication, and hard work," she vowed.