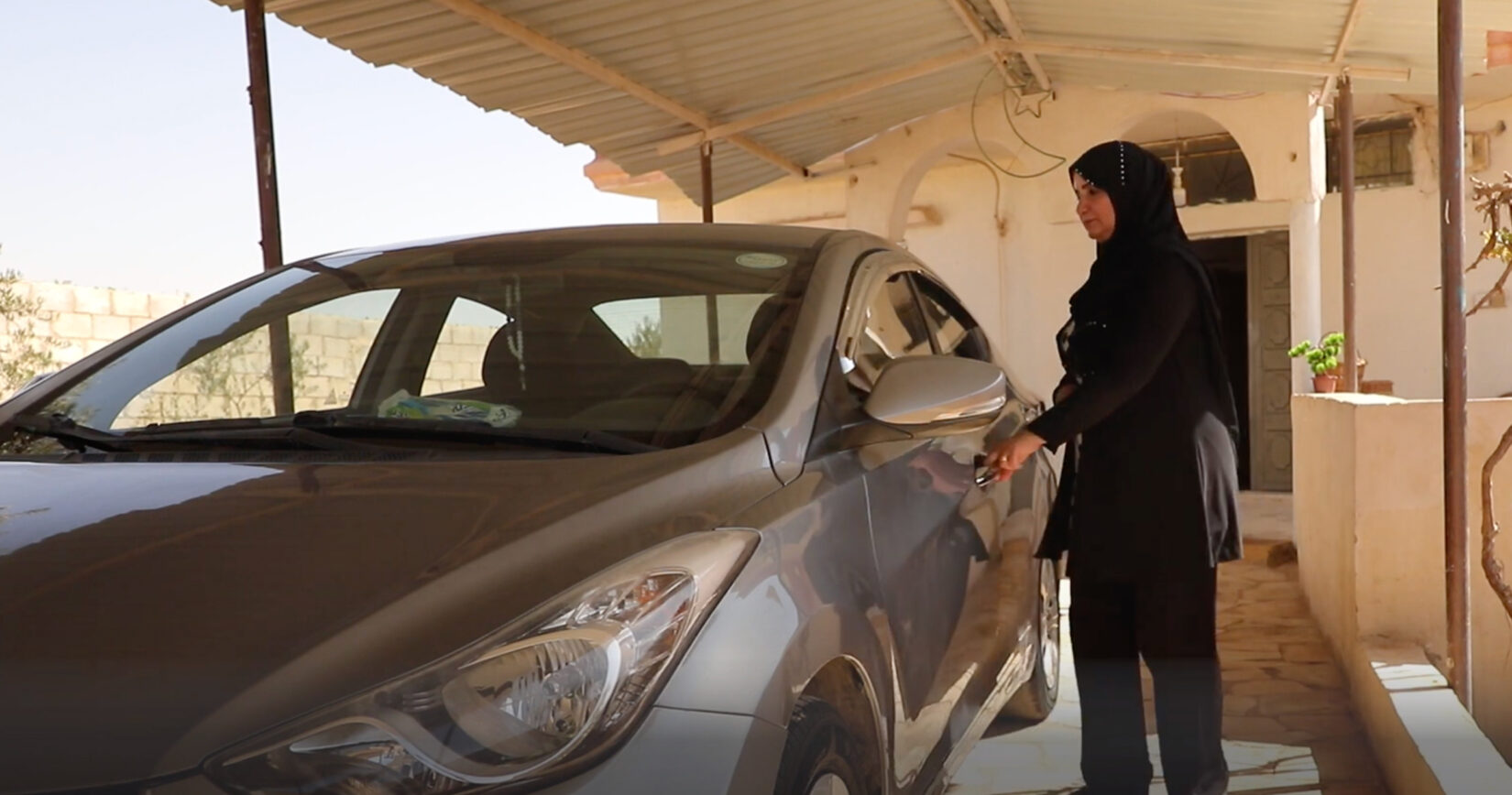 Fadwa Ahmad Abu Saifan, founder of a women-only taxi service in Jordan.
Fadwa Ahmad Abu Saifan, 49, from Al-Mafraq, Jordan, grew up with eight brothers and sisters in a very conservative and traditional family.
"I think those traditions suffocated me," she said. "My dream was to continue my education after high school and to become a nurse."
Now, Fadwa is a mother of five and growing her own business, and she's got the confidence and business acumen to achieve her entrepreneurial dreams. It was CARE's Women in Enterprise program, funded by the H&M Foundation, that gave her the boost she needed.
Fadwa first came into contact with CARE when she joined a Village Savings & Loans Association where she learned the power of saving money.
"I learned that you can do big things, even with a small amount of money," she said.
During this time, Fadwa was co-founding a beauty school, which she managed for two years. Through the savings group — a small group of women who meet regularly to safely save their money — she was able to take out a small loan to buy beauty products for the business. Fadwa also received valuable business training from CARE, which enabled her to prioritize her earnings and better manage her business. She adds: "If women are trained in the right way, miracles will happen."
Miracles like successfully pivoting from the beauty industry to the transportation sector. With the entrepreneurial experience from the beauty school, Fadwa found a niche in the market for women-only taxi services. However, most of her brothers were against the idea.
"The idea of working women is not tolerated in my community," she says. "Not only was I driving a car, but also doing something my community considered taboo. I had to challenge how people saw me in my local community, especially my brothers."
She adds that because of difficult living conditions and lack of income, men in her community have become more tolerant and supportive toward women in business.
"Now, I think men should start believing in women," she says.
Due to her success and perseverance as an entrepreneur, Fadwa was invited by CARE Jordan to become a role model for other aspiring women entrepreneurs. She received public-speaking training, and says: "I proudly overcame my shy personality, and I have become more confident in speaking my mind without fear or hesitation."
A Message of Motivation
She has since toured the country, alongside other role models, sharing her experiences with others. Her main message to other women: "You can overcome all the obstacles you face. You can do it."
Fadwa is now applying this positive attitude to the coronavirus pandemic, despite its devastating impact on her taxi business, which is now on hold.
"At first I was depressed because of the lockdown, but I saw the negative impact I was having on my family," she said. "So I decided to get out and volunteer, delivering medication to the elderly and food packages to other vulnerable people. My message to other business owners affected by COVID-19 is to never give up."
Fadwa has many ambitions for her future. She wants to expand her taxi business, resume her studies, found her own community organization for women, set up a mechanical car shop for her children, and run for parliament. If she lives by her own motto, "You can do it," achieving all these ambitions seems highly possible.
"I am proud of myself and who I became," Fadwa says. "I feel that I now have an identity and a voice of my own after opening this business."