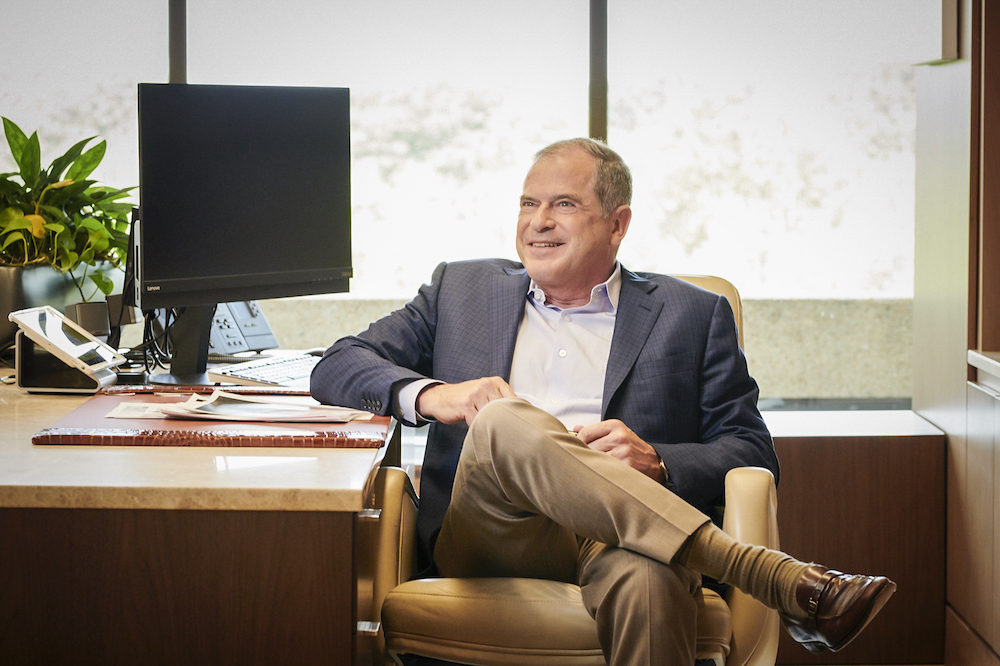 Twenty years ago when Jim joined the company, he supported equality but wasn't an active advocate at the time. Back then, like many of his peers, he was focused on driving business results, creating shareholder value and attending to all the performance-related details that C-suite leaders handle in the daily work of running a multinational corporation.
But a new dimension began to emerge over time, for reasons large and small. One large reason was fatherhood – Jim is a proud dad to four daughters. But there were other considerations as well. He is inspired by his wife Rebecca, who founded and operates a highly successful consulting company while engaging deeply in the community, raising their children and keeping their marriage a top priority.
"From deep within me, I'm a believer in equality and equal opportunity for all people, including women," he said. "When you have women leaders on your team or women leading the team, you get input, decisions and outcomes that are quite powerful." Jim believes that he personally benefited from a system that promotes people based on merit; however, he has come to realize that the system is inherently biased in favor of white men. Doing what he can from his leadership position to change that has now become a mission for him.
In his role as President and CEO of Stanley Black & Decker, this personal connection has been the inspiration behind a number of initiatives introduced to improve inclusion, diversity, and equal opportunities across the company. This includes improving work-life balance for employees, providing resources and support to ensure that this balance is practiced at all levels and in all parts of the world. It also includes a challenge from Jim to his leadership team to set the example, both advocating for and taking concrete actions to foster equality and respect for all.
Underlining the importance of parity, not just for women, but for people of all races, abilities and backgrounds, Jim has personally championed some ground-breaking diversity and inclusion projects over the past three years. The first is the foundation of multiple employee resource groups, including the Women's Network – a company-wide network of leaders and advocates that provides formal and informal mentoring, training and relationship-building opportunities. Local chapters foster connections and deliver programs to help women connect, learn and grow.
With this support from the top, Stanley Black & Decker has recently received several industry awards and recognitions, including a Top 50 Employer for Women Engineers; Forbes' America's Best Company for Diversity; Mogul's Top Companies for Women; and Comparably's Best CEOs for Women and for Diversity.
Jim also takes an active role in organizations seeking to make positive progress in gender equality across the industry. He is a member of the CEO Action Network for Diversity & Inclusion, a powerful association that enables business leaders to come together to provide a unified voice, both impacting their own organizations and influencing the overall economy. He is a member of several groups such as the National Association of Manufacturers, the Business Roundtable, and the Manufacturing Alliance for Productivity and Innovation, all of which are advocating for progress in diversity and inclusion, breaking down barriers and eradicating bias, unconscious and otherwise, in the business world.
For Jim, #EqualEverywhere starts with equality, and progresses to equal opportunity, in every country globally. But he acknowledges there is still a long way to go. #EqualEverywhere is a call to action that prescribes the need to "develop awareness, shift perceptions and take action – in a comprehensive and meaningful way."
In the wider gender equality movement, Jim appreciates that there are encouraging examples of women increasingly taking roles on boards of directors within industry, as well as women winning elected offices in greater numbers – a real-world demonstration that women are making strong headway in high-profile professions. However, he believes there is still a lot of work to be done to start seeing significantly more women being promoted to more senior positions, including CEOs.
"Through my various leadership roles over the years, I've learned that there is much power in actively listening to the perspectives of all people," said Jim. "And I want Stanley Black & Decker to be a place where our employees feel they are heard, know they belong and see they can truly make a difference – with no career limits. I'm dedicated to making significant progress with gender parity in the 2020s."