Ruba Al-Zu'bi is breaking down barriers in the male-dominated field of engineering, helping mentor and upskill female engineers working in agriculture technology and food security.
Ruba Al-Zu'bi knows that girls and women can do anything they put their minds to. But as an engineer working in environmental science and policy in Jordan, she also knows what it's like to be the only woman in the room. Now, as the Country Director of the Sahara Forest Project, which works to reverse desertification in arid regions, Ruba is determined to empower the next generation of women in her field. Her advocacy goals are twofold: to help girls and women fulfill their professional dreams and to ensure they are fully represented in the climate action movement. We spoke to Ruba about her experience as a female in a male-dominated field, the importance of representation and mentorship, and the imperative of including girls and women in the global effort to save our planet.
What does #EqualEverywhere mean to you?
#EqualEverywhere is about living up to the real intention of sustainable development: to leave no one behind. No equality equals no impact! It's about so much more than being on the receiving end of sustainable development — we must give girls and women a seat at the table to actually shape the agenda.
How do you advocate for equal rights for girls and women?
I'm committed to guiding and pushing them to unleash their full potential. I love helping girls and women find their untapped talents and put them into action.
I recognize my responsibility to encourage girls and women to bring their perspectives to the climate change movement because they can be a great asset to any institution or committee.
What motivates you to do this work?
I have been through a lot in my life, but I'm grateful for every challenge. They've led me to become the person I am today.
I say this thinking of the girls and women who strive to become the change that they want to see in their communities. When I started my professional development journey, I had no mentor. Now, I see what mentorship can do for the amazing women in Jordan and around the globe. Sometimes, one person who believes in your potential can make all the difference. Girls and women in science and engineering need strong examples of who they can become and what they can accomplish.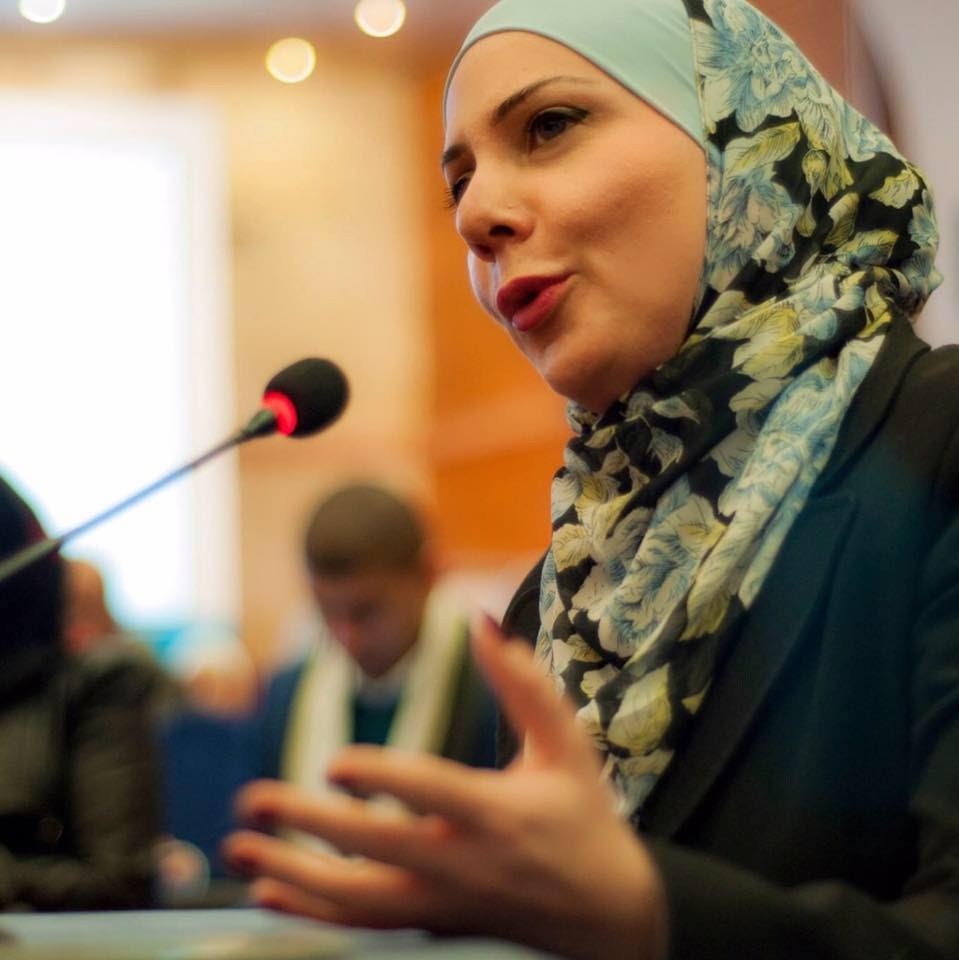 How has your experience with gender discrimination shaped your work to advocate for girls and women?
As a child, I wasn't aware of gender discrimination's impacts. But as I entered the green domain, I became more conscious of the mindsets and dynamics surrounding women in the workplace, community, and home. Practically every part of life.
In my view, change starts with being aware and evolves into resilience. I learned to prioritize and to communicate in different ways.
Many of the positions I've held have been in male-dominated places. Not because there aren't capable, qualified women in the environmental science and engineering fields. Most leadership positions are just held by men. There have been many times when I was the only woman in a senior management meeting or in a policy discussion. I take it upon myself to be an advocate for positive change for whatever organization, sector, or community I'm working with.
I just want other women to know that they are never alone and that they can do it. I cherish every day of my life. Tough days make you stronger and more agile. There have been tears, but they've built my self-awareness. It's a journey to enjoy and learn from with no regrets.
What are the main challenges you experience in your work to advance gender equality?
Equality must be anchored in every organization's ethics and values — not an "add-on" that we only talk about. We still lack the tools and data to better understand where we're falling short on gender equality. For example, digitalization — when we analyze the data and trends to change how we operate — needs to be humanized to support equality. Employers and investors need to uplift girls and women in this growing field by setting targets, measuring progress, and celebrating impact.
What progress are you seeing as a result of your work?
I'm blessed to be able to work with and for girls and women as the Country Director of the Sahara Forest Project and on a larger scale through my volunteer work with nonprofits and startups. As part of our new strategy at the Sahara Forest Project, we launched the "She Grows" program as our flagship social impact initiative, collaborating with partners to upskill women engineers working in agriculture technology and food security. On a grassroots level, I'm currently working with a group of motivated young women engineers to start a society aimed at empowering women scientists and advocating for more inclusivity in clean energy and climate action.
I personally believe that women and girls are increasingly leading and shaping climate awareness and action. Women tend to be closer to their environments and communities. Whether they are housewives, teachers, students, researchers, engineers, health care providers, lawyers, journalists, or accountants, girls and women are needed in ending the climate crisis. They're also better positioned to connect different sectors — social, environmental, and economic — to design more efficient and inclusive solutions.
What progress are you seeing in the wider gender equality movement?
I'm inspired every day by the women in my life who are influencing the world in their own unique ways. For any sector or organization to be truly sustainable, everyone's voice should be heard. The more inclusive and diverse we are, the more society as a whole benefits.
Women are and will continue to be an added value if genuinely empowered and given opportunities to thrive. The gender equality movement is gaining momentum but not at the same level everywhere. In Jordan, women are at the heart of our leadership. Hopefully, we will soon see the change we aspire toward reflected across sectors and in minds.
It's about so much more than the numbers; it's about the engagement that's taking place, starting with decision-making and then making equality our reality.
We are here, and we will build the future we all deserve.