As a UNA-USA Global Goals Ambassador, Uma raises awareness of the challenges faced by women and gender minorities
UNA-USA Global Goals Ambassador Uma Menon, a student at Princeton University, says she has "no other choice" but to be passionate about gender equality. As a published author and human rights advocate, she hopes to help shape a better world for women and gender minorities and ensure that they are #EqualEverywhere. We spoke to Uma about the need for greater representation in media and literature, intersectional feminism, and her vision for a gender-equal world.
What does #EqualEverywhere mean to you?
To me, #EqualEverywhere is a vision of the future that we are working towards: one in which women and gender minorities are treated equally in all spaces. It is a world in which we are afforded equal opportunities and representation, where we have the agency and autonomy to lead our lives how we wish.
How do you advocate for equal rights for girls and women?
As a UNA-USA [United Nations Association of the United States of America] Global Goals Ambassador for Sustainable Development Goal 5: Gender Equality, I have worked to raise awareness of the challenges faced by women and gender minorities and advocate for intersectional feminism. I have been able to add my voice to the global conversation on gender equality as a speaker at various events, including an event hosted by UN Women, and at important moments like International Day of the Girl Child. As an author, I also use creative writing as a tool to raise awareness and shift cultural narratives to promote gender equality.
What motivates you to do this work?
As a young woman of color, I have witnessed firsthand the barriers and hurdles that women and gender minorities continue to face in our world today. I am passionate about gender equality because I have no other choice — I must fight to have my voice heard, my freedoms protected, and my equality secured. As a writer, activist, debater, and student, gender has affected the ways in which my work is received in all of these realms. I have come to realize the double standards that women face — the more confident and empowered we are, the less "likable" we become. As a gender equality advocate, I find that we need to push both for policy-level changes as well as the redefining of social norms which prevent progress.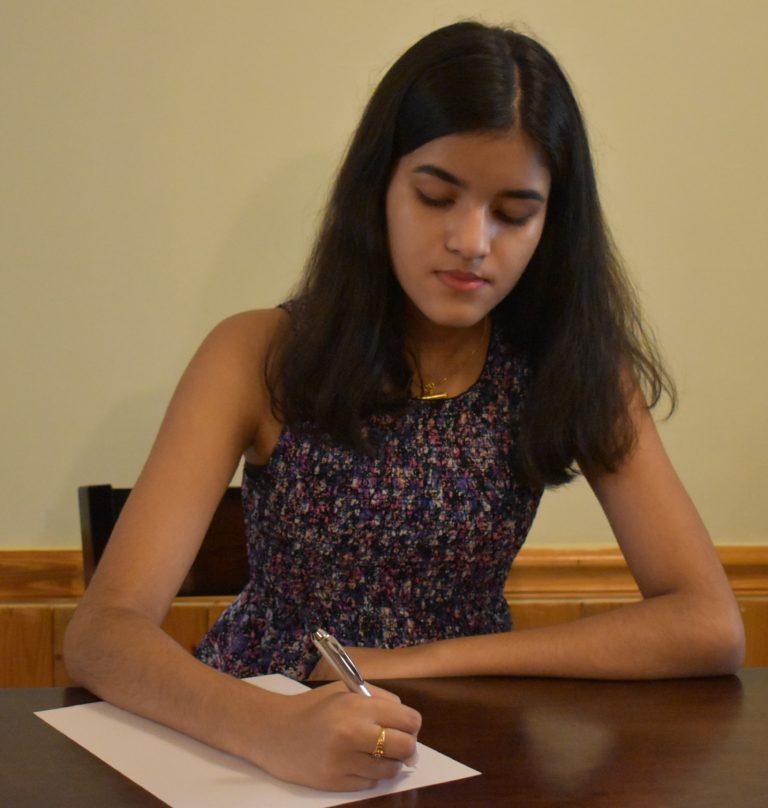 How has your experience with gender discrimination shaped your work to advocate for girls and women?
Growing up, I was often frustrated by the fact that I never had the opportunity to read a story about a person who was truly like me. This should come as no surprise, given that study after study has found a large gender and racial representation gap in media and children's literature in particular. Not only does increased representation make it easier to raise awareness of inequalities and injustices, but it is also crucial for empowerment. As a writer, I hope to put an end to this issue of underrepresentation. My experiences have inspired me to write books that center young women of color and the challenges that we face.
What are the main challenges you experience in your work to advance gender equality?
In the past several decades, activists have made possible significant progress towards gender equality, but there remains a long way to go. In some respects, it is more difficult to dismantle gender inequality today than it was 200 years ago because of the ways in which patriarchal norms are so deeply embedded under the surface of our society. One of the main challenges today is raising awareness of the structural inequalities faced by women and gender minorities. Gender equality requires not only that we solve the most talked-about issues, like unequal pay, but also that we remove the hidden barriers that make it more difficult for women to seek economic opportunity.
What progress are you seeing as a result of your work?
Through my work, I hope to empower young women to embrace their own identities and see themselves as important agents of change. My writing has amplified myriad issues, including gender equality, racial justice, and climate change, encouraging audiences to think critically about social injustice and how they can make a difference.
What progress are you seeing in the wider gender equality movement?
Today, the gender equality movement is more intersectional and representative than it has ever been before. It is a movement led and sustained by people of all ages, gender identities, and cultural backgrounds. This progress is not only indicative of widespread public support for gender equality, but it also constitutes an important step in our understanding of equity and inclusion.