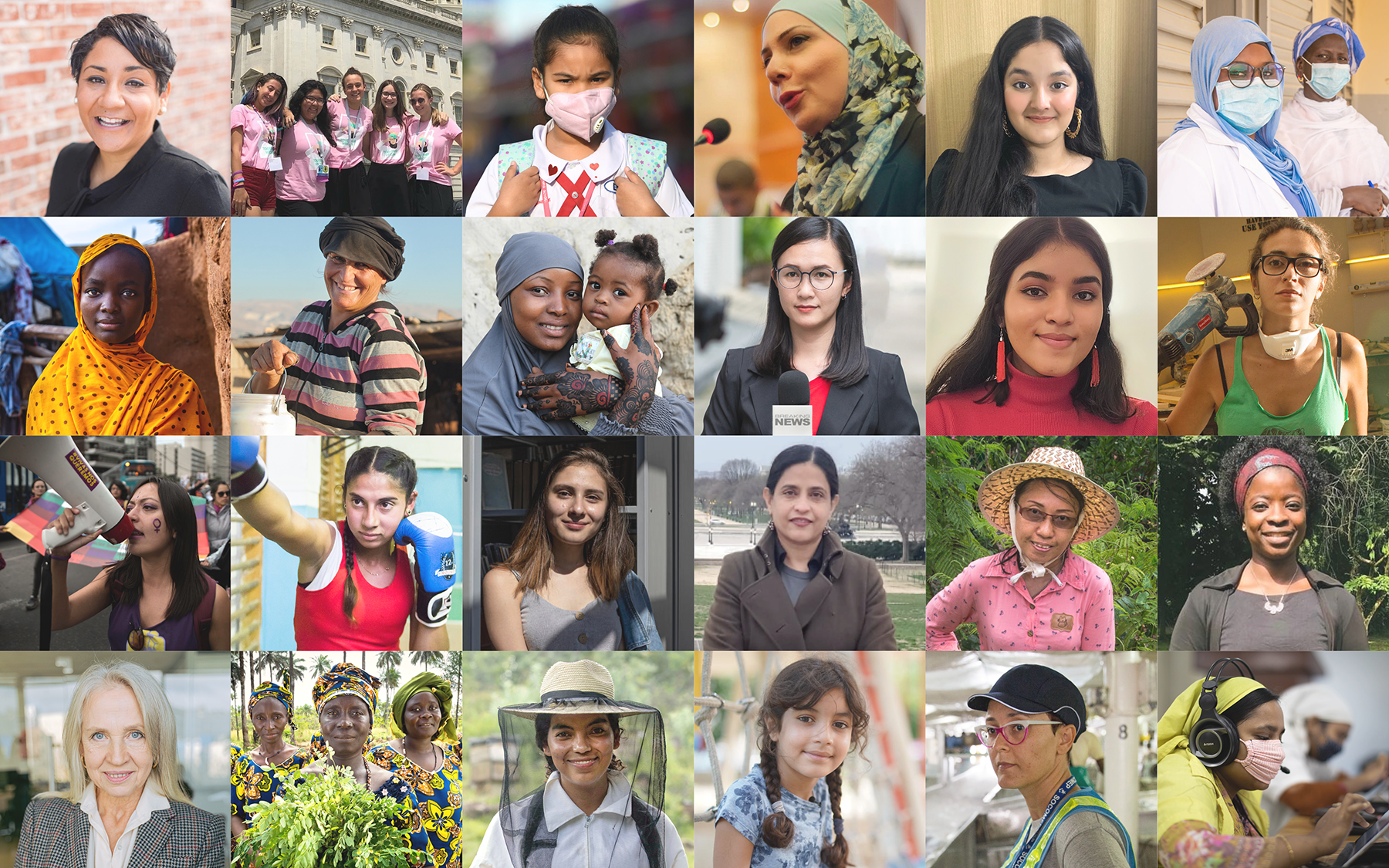 Did you know that on average, women across the world are afforded just three-quarters the legal rights as men? Or that 30% of countries still restrict women's freedom of movement? These are just a couple of the brazen examples of discriminatory laws, policies, and norms that #EqualEverywhere is calling attention to this year — along with the brave advocates striving for change.
In #EqualEverywhere: Champions for Change, the UN Foundation's Vice President for Girls and Women Strategy, Michelle Milford Morse, speaks to inspiring female leaders who are blazing trails, breaking barriers, and stepping up to ensure that girls and women are equal in every place and part of life. The episodes cover today's trending topics with girls and women at the center: global health, civil rights, and representation in the media, the economy, and the world of work — and offer a front-row seat to candid conversations with leaders who are pushing for a gender-equal world.
WHO GETS SEEN, WHO IS HEARD, AND WHO DECIDES? RENEWING THE REPRESENTATION AGENDA
Whether it's in retail or media, the values of inclusion, respect, and social justice are at the core of the push to overturn barriers to gender equality. Heidi Cooley, Chief Marketing Officer at Crocs, shares how diversity and inclusion — with gender parity at the highest levels of leadership — have helped strengthen the brand and given it more appeal. Tara Abrahams, Head of Impact at The Meteor and Board Chair of She's the First, joins Heidi for the conversation, highlighting how storytelling can help people reclaim power in unequal spaces. As she says, the best moment to tackle gender inequality is now, when so many people are more attuned and energized than ever.
WHAT NOW? A WORLD OF CHALLENGES FOR WOMEN AND THEIR WORK
Securing economic opportunity for girls and women isn't an option, it's essential. Maria Bystedt, Strategy Lead at the H&M Foundation; Lakshmi Pattabi Raman, Director of Collective Impact at The/Nudge; and Tea Trumbic, Program Manager for the World Bank's Women, Business and the Law project, know it well. In this episode, they share insights on finding lasting solutions to the challenges girls and women are facing. In short, they call for a systems-level approach. Whether that's accounting for all of the interconnected barriers that underpin the challenges, or the full range of diverse stakeholders involved, such as spouses or community leaders. When we think of complex solutions to complex problems, we have a better chance of supporting women in the ways that matter most.
PEACE, JUSTICE, AND EQUITY IN ACTION: A CONVERSATION WITH ARNDREA WATERS KING
Arndrea Waters King, President of the Drum Major Institute, and her family have dedicated their life's work to the vision of Dr. Martin Luther King Jr.: creating a world rooted in justice, peace, and equity. This rich conversation spans her views on the state of rights for girls and women of color; how bell hooks has fueled her passion for her work; and why it's more important to always stand for something rather than against anything.
WHO BUILDS IT? CONSTRUCTING NEW OPPORTUNITIES FOR WOMEN AND THE WORLD
Tabata Gomez went from a career in cosmetics to one in tools. She's now President of Hand Tools, Power Tools Accessories and Storage at Stanley Black & Decker. Shelley Halstead said goodbye to a career in law to pursue carpentry and empower other women by teaching the trade. She's the Founder and Executive Director of Black Women Build Baltimore. These women are breaking stereotypes each day and are proving that there's no such thing as "women's work" or "men's work." Work is simply work, and by shifting narratives, we can take the first step toward expanding the wealth of opportunities available to women — even in traditionally male-dominated fields that require picking up a shovel.
A NEW SHOT AT ACCESS AND EQUITY FOR GIRLS AND WOMEN. LEADERSHIP AND LESSONS FROM THE PANDEMIC
Experts have repeatedly pointed out that the COVID-19 pandemic has a disproportionate impact on women. But what does that mean exactly? The Executive Director of UN Foundation's Shot@Life initiative, Martha Rebour, and AmerisourceBergen's Senior Vice President and Chief Diversity, Equity, and Inclusion Officer, Ann Anaya, unpack the inequities that women are experiencing: their overrepresentation as front-line workers, higher rates of mental health disorders, an increased burden of household and caregiving duties, and more. They also point out crucial lessons the pandemic has taught us, including the magic of optimism and positive leadership.
What's clear from these wide-ranging conversations is that the fight for equality doesn't benefit only women — the whole world does better when girls and women are equal to boys and men. Societies and communities become more resilient. Economies become stronger. And our world will become safer and more inclusive for all.
So what are you waiting for? Join us. The cause is worth fighting for, the conversation is just getting started, and we hope you will share and amplify the dialogue at work, at home, and online. Let's make the hashtag #EqualEverywhere go viral and bring about the change girls and women — and the world — deserve.